Introducing Custom Checkout Link – Your Partner for Closing External Sales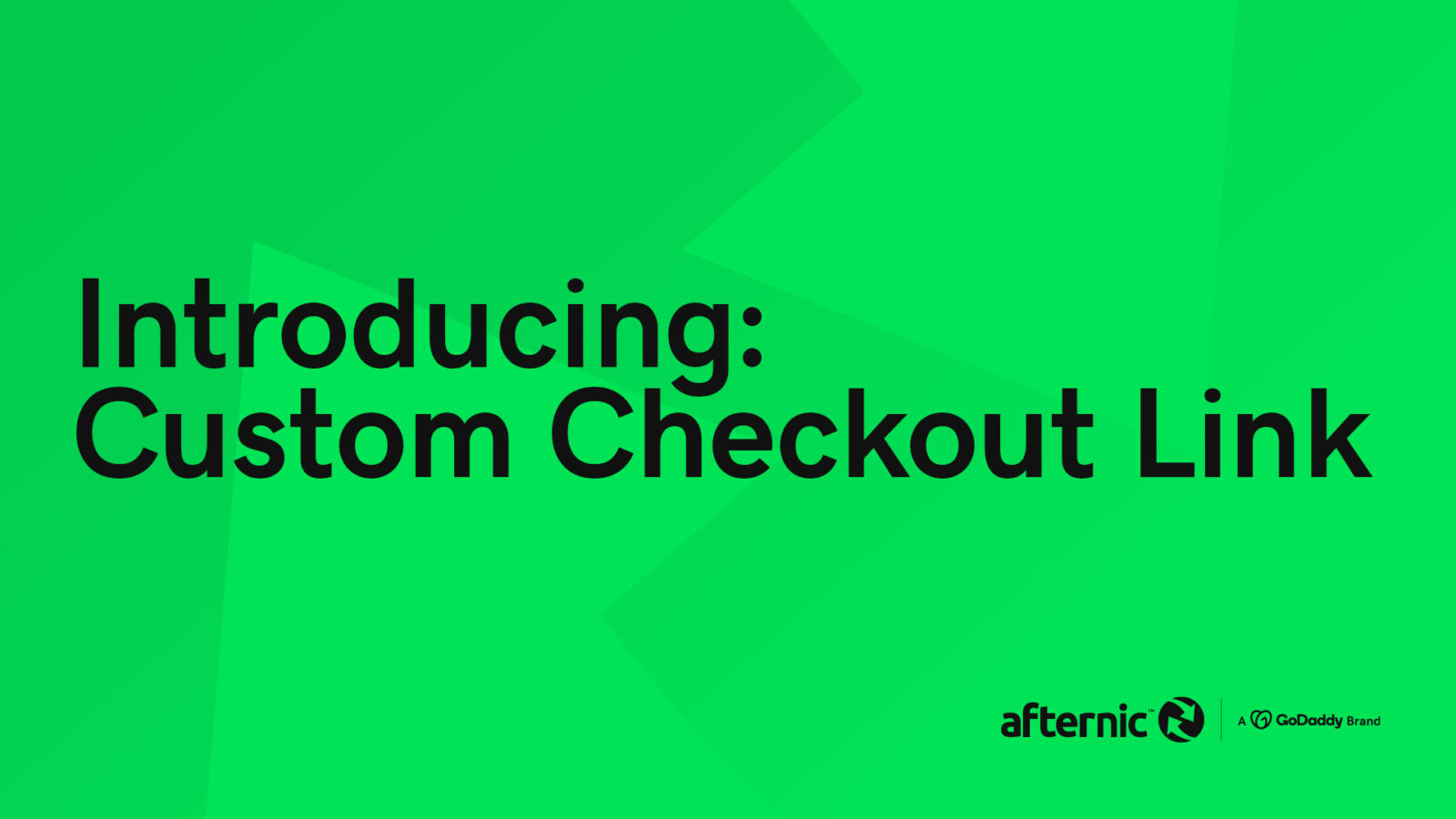 For domain name investors who enjoy the thrill of negotiating a domain sale for themselves, agreeing on a deal isn't the endpoint. Choosing a trusted partner to facilitate the transaction is something that needs to be considered carefully.
From the exchange of funds to the domain name transfer, using the right partner can provide confidence and security to both the buyer and seller.
To that effect, Afternic has launched Custom Checkout Link, allowing sellers to use the GoDaddy platform to close a domain sale that they have already negotiated.
Custom Checkout Link Launches
In the past, Afternic focused on domain name transactions occurring within its marketplace and network, and today we are extending our reach to help sellers securely close transactions negotiated externally with the launch of Custom Checkout Link.
This new service enables sellers to utilize Afternic's parent company, GoDaddy, and its platform to close a domain transaction once they negotiate a sale price with a prospective buyer. A sale backed by GoDaddy is a powerful ally for sellers. The GoDaddy brand is a trusted and familiar name for buyers; all of this comes with a low commission rate of 5% for Buy Now deals.
For customers of Dan.com, this concept is a familiar and favorite one. Afternic is leaning on Dan.com to enable Custom Checkout Links to its customers that leverage the Dan.com platform – endorsed by the GoDaddy brand – for maximum buyer confidence.
Buyer confidence is bolstered by our global service and a dedicated transaction assurance team. These services are designed to save investors time, allowing them to focus on their next sale or acquisition.
How Do I Use Custom Checkout Link?
Generating a checkout link for domain names on Afternic is a simple and intuitive process, designed to furnish sellers with the link within seconds. Once generated, sellers can share this link directly with the buyer of the domain. Sharing the link with the buyer will allow Afternic to finalize the domain sale by guiding the buyer through our secure transaction assurance process.
Below are the steps sellers can take to easily generate their checkout link.
1. Creating a Link
Scrolling to the right of the domain listings on the Afternic portfolio page, there will be three dots providing additional links for individual domains. Now, nestled there is a new option entitled "Create Checkout Link."
Once the terms have been agreed upon and negotiated externally, clicking "Create Checkout Link" will start the simple process of creating a checkout link that sellers can share with buyers. It's important to note that the domain name must have an active listing status on Afternic to use this service.
2. Entering Terms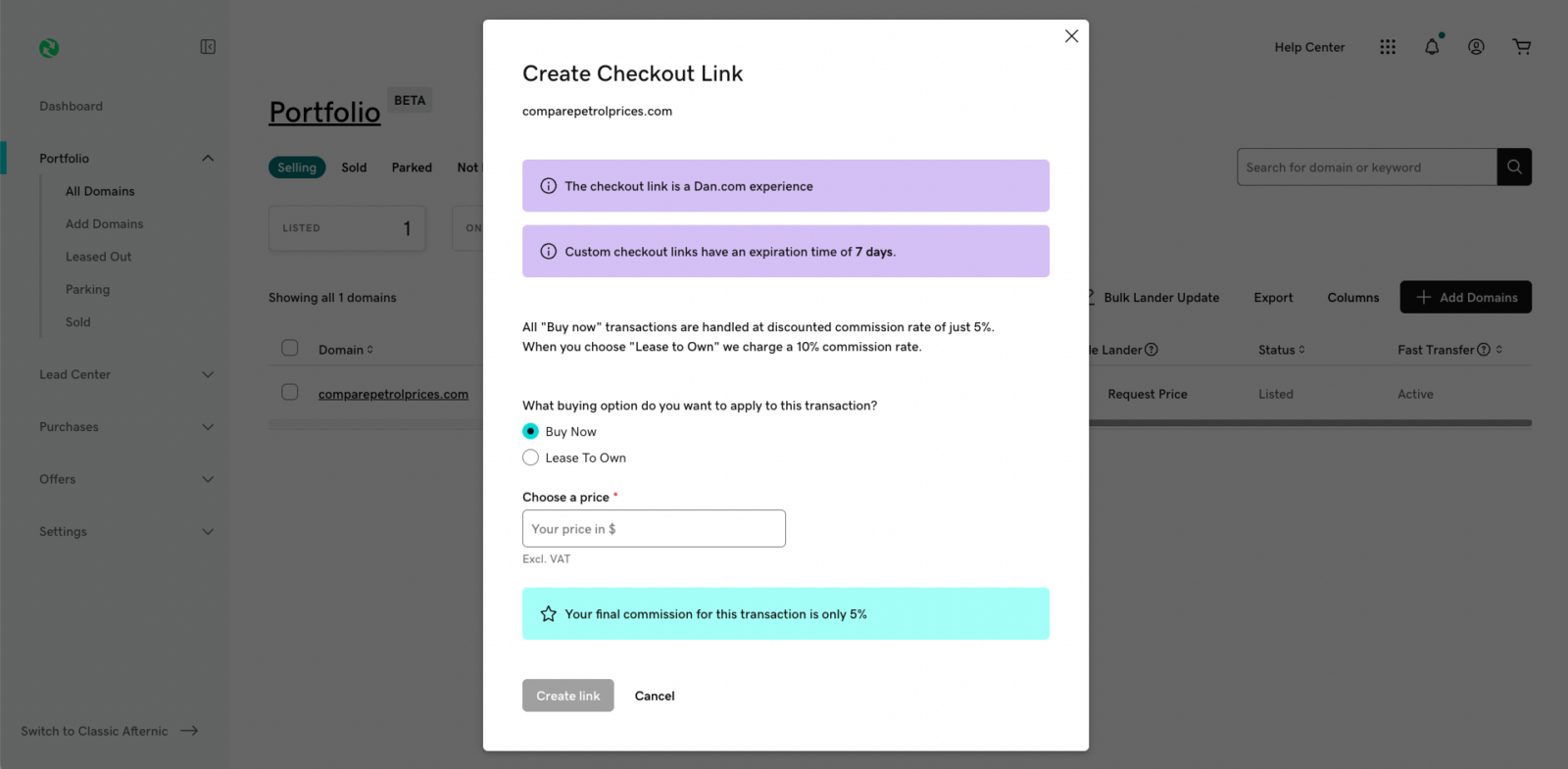 A box appears with two transaction options, Buy Now or Lease to Own. There, sellers are prompted to enter their custom terms. If it's a Buy Now sale, sellers will enter the agreed-upon purchase price in the pricing field. Afternic supports Buy Now sales of $99 or more.
For Lease to Own, sellers will need to toggle to that option and enter the total price between $495 and $100,000, along with your agreed-upon lease period, up to 12 months. The monthly payments will be calculated for the buyer based on this information.
Payment terms for the Custom Checkout Link will not affect any Buy Now prices sellers currently have listed at Afternic or Dan.com. It will also not affect any leads in progress in the Lead Center.
3. Copying the Link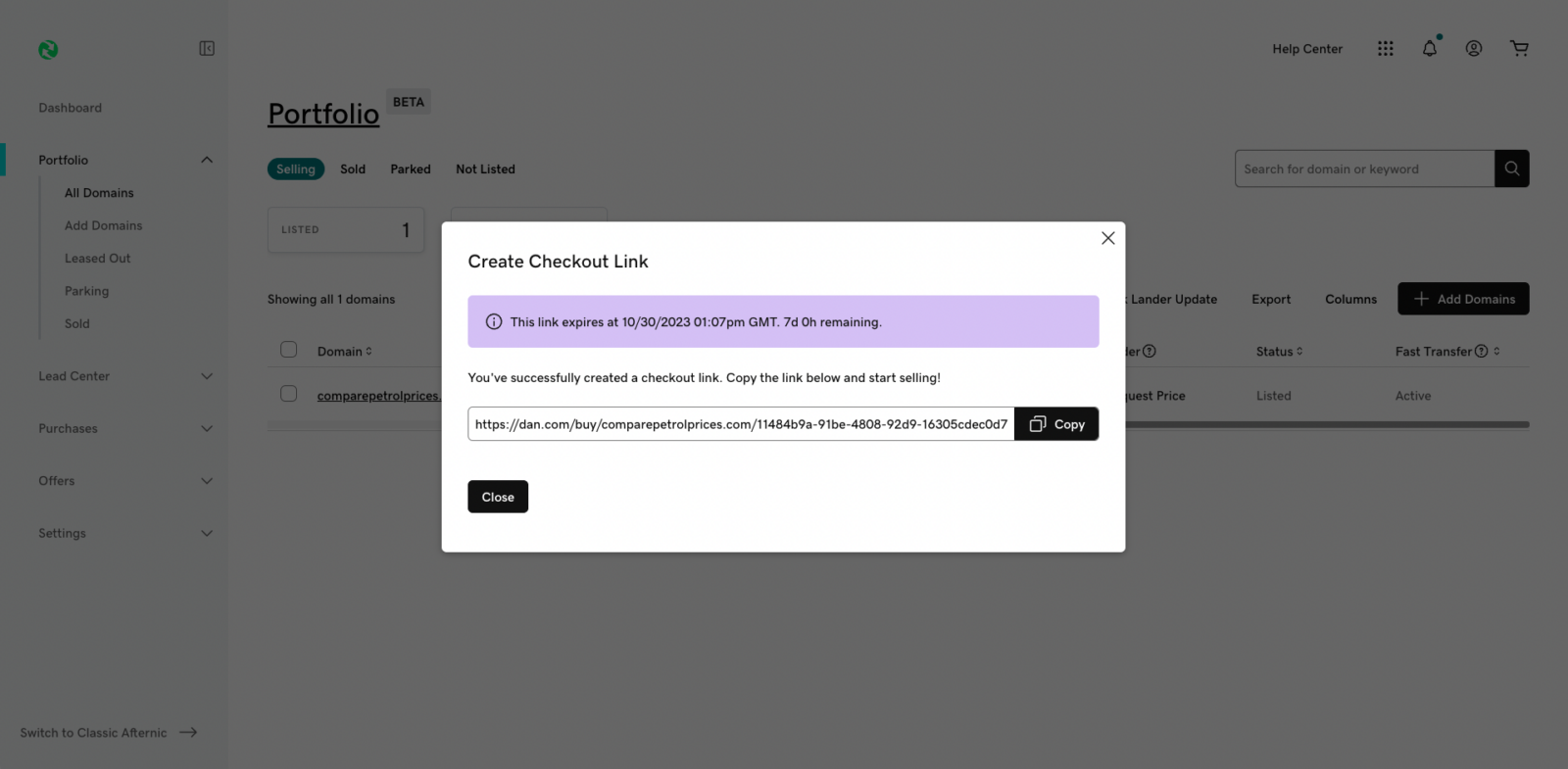 After clicking the "Create Checkout Link" button, sellers will see a Custom Checkout Link for the selected domain name, along with the terms set. That link will be valid for 7 days and the exact expiry date will be displayed.
To offer these capabilities to the market as soon as possible, Afternic partnered with Dan.com to provide the infrastructure and payment capabilities necessary to provide this service to Afternic customers.
As such, the Custom Checkout Link will show a Dan.com URL, and buyers will also abide by Dan.com's terms of service.
4. Sending the Link
Once the link has been generated, it's recommended that sellers quickly send the link to the buyer of the domain name.
Once a buyer has initiated the checkout process, the deal will flow just like any other Afternic or Dan.com sale. The buyer will not need to create an Afternic or a Dan.com account.
5. Finding Link Details
A link icon will appear for domains with active links. Clicking this, and then the "Link Details" option, will show all the information about the link you created. This includes the link URL, pricing details and expiry date.
6. Email Confirmation
When a buyer uses the link to pay for the domain name, the seller will be emailed to let them know that the payment has been submitted using the Custom Checkout Link. From there, the transaction will follow Afternic's usual Transaction Assurance path.
What Commission Will Be Charged?
The commission rate is an important factor for domain sellers looking to use a trusted partner to facilitate a domain sale. Fortunately, the commission fees for this new feature are simple.
For Buy Now sales, the commission charged will be 5%, with a minimum commission fee of $15
For Lease to Own transactions, the commission charged is a flat 10%. Afternic's standard marketplace commission rates and discounts do not apply, with no markup fees paid by the buyer, either. The maximum lease term for this option is 12 months.
The Buy Now and Lease to Own commission fees for Custom Checkout Link are not dependent on nameservers.
For any questions about Custom Checkout Link, you can visit our comprehensive FAQs section.