Afternic's Lease to Own Integration with GoDaddy, Plus NameFind's Activation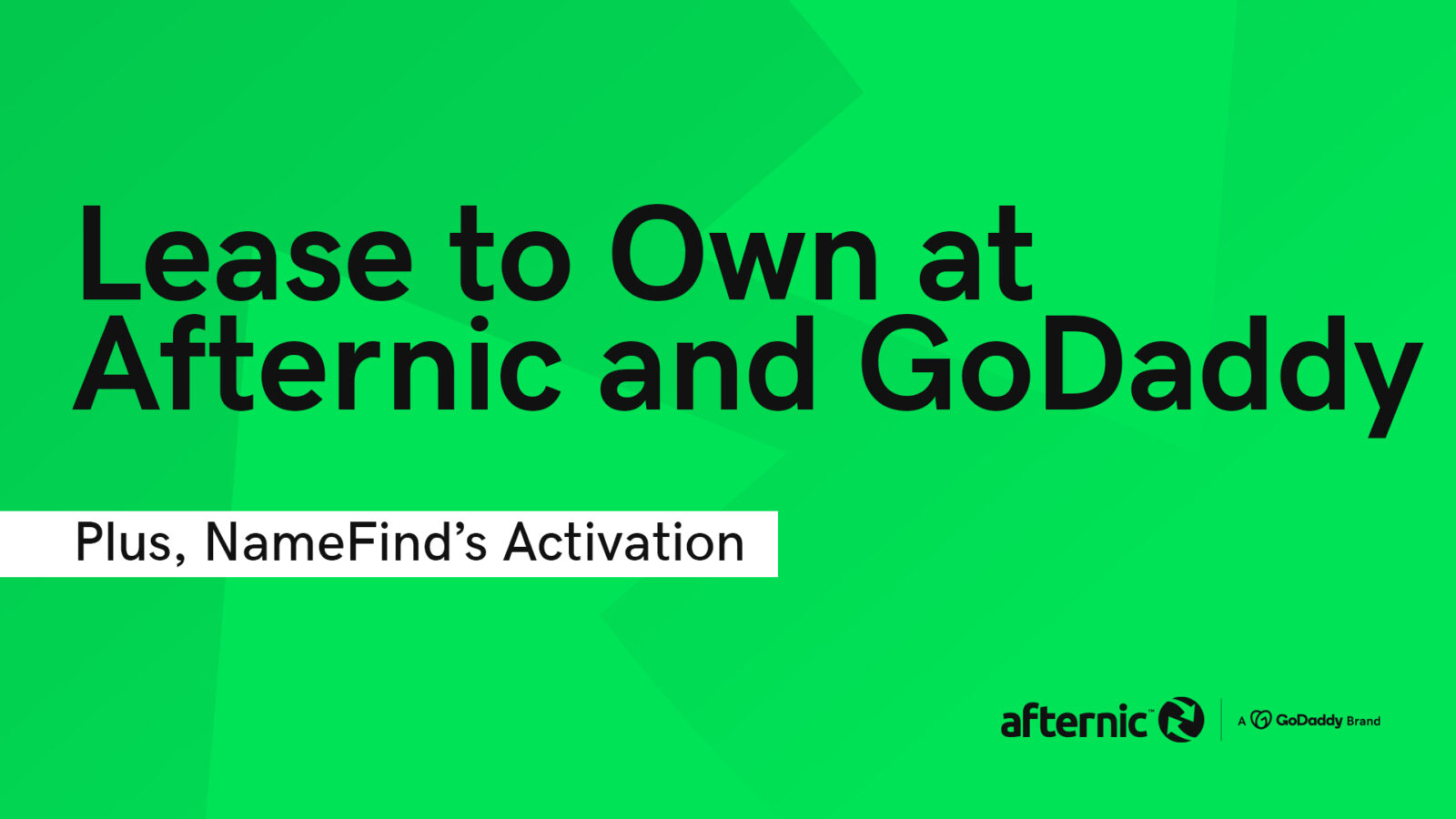 July 2023 saw the release of one of the most significant new features for domain sellers at GoDaddy's Afternic: Lease to Own.
Rather than a typical domain name transaction where the whole fee is paid up front, Lease to Own allows payment over time – a benefit for buyers who can begin using a premium domain name without that initial premium price tag.
It is a feature that is proving popular with sellers, too, who can use Lease to Own to create recurring income from their domain portfolio. While recurring income is a goal for some sellers, Lease to Own can also provide a boost in sales velocity, thanks to accessible monthly pricing for buyers.
Afternic's Lease to Own launch covered some important aspects of the new feature, including Lease to Own's visibility at GoDaddy search.
GoDaddy Integration Progress
One of the major perks of Afternic's Lease to Own feature is an integration into GoDaddy search.
GoDaddy, the world's largest registrar, is the top destination for anyone buying a domain name, and thanks to decades of advertising and global brand recognition, there's inherent trust between GoDaddy and its buyers.
Now, those buyers have Lease to Own as an additional purchase option when searching for a premium domain.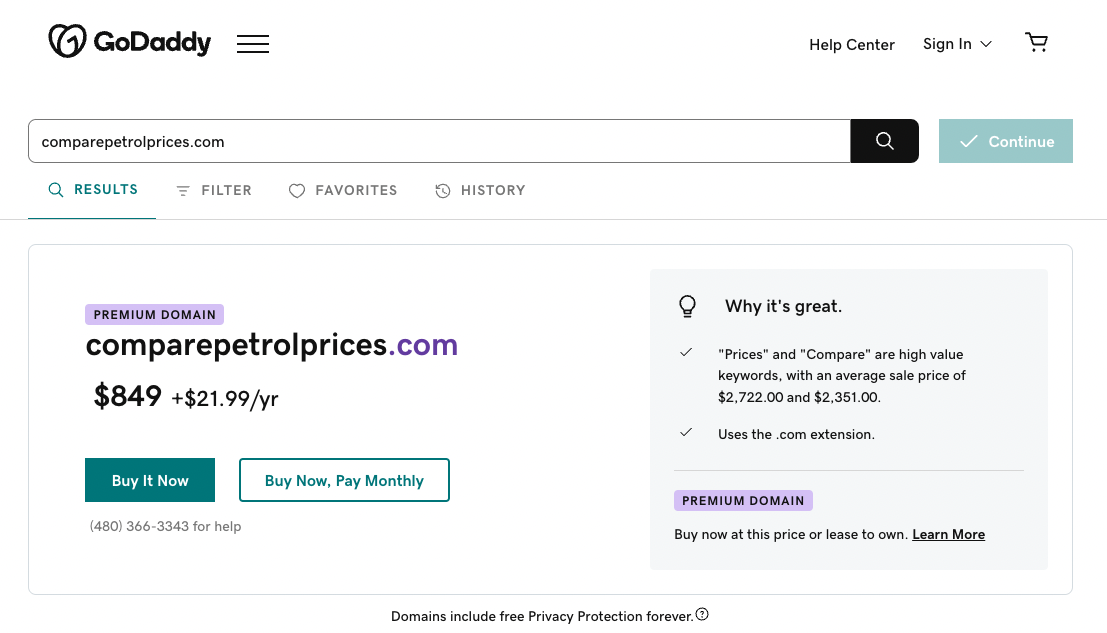 As you can see above, Lease to Own, displayed here as Buy Now, Pay Monthly, sits beside an outright purchase option, giving domain name buyers some flexibility on pricing.
The integration of Lease to Own-enabled Afternic listings into GoDaddy is complex and something that takes time. Initially, this Lease to Own integration was tested on a small portion of eligible traffic at GoDaddy.
We have been gradually increasing exposure of Lease to Own at GoDaddy, and we are on track to complete this rollout to U.S. traffic soon, with other countries following.
The additional exposure of a Lease to Own option at GoDaddy comes at no added cost to sellers, who can benefit from this new feature.
NameFind Enables Lease to Own
Ever since Lease to Own was launched, GoDaddy, via its NameFind portfolio, has analyzed the potential opportunity that enabling the payment over time feature could bring.
At the beginning of September 2023, GoDaddy began the process of enabling Lease to Own on the majority of domain names in its in-house NameFind portfolio.
Providing the option of payments over time opens aftermarket names to a wider group of motivated buyers, and so far, GoDaddy's NameFind portfolio team has found enabling Lease to Own to be beneficial.
Have You Enabled Lease to Own?
As Lease to Own continues to roll out, we expect more Afternic sellers to activate the feature on their portfolios.
If you're interested in enabling Lease to Own, here are five steps you may take today.
Check and update Buy Now prices

Lease to Own will work based on your current Buy Now prices between $495 and $100,000, so ensure that you have accurate Buy Now prices listed for your domain names within your Afternic portfolio.

Switch on "Lease to Own" for your existing domains

On your Afternic portfolio page, you'll notice a new "Lease to Own" column. Enable Lease to Own for individual domains by clicking the "Off" link and following the instructions. Bulk updates can be done by selecting multiple domain names and clicking on the "Pricing" toolbar in the footer. Up to 500 domain names can be enabled at a time. If you are enabling 10,000 or more domains for Lease to Own, partnerseller@afternic.com will be able to help you with that.

Enable Lease to Own for future domains

There's a new tab in your Afternic account settings. There, you can enable Lease to Own by default for all domain names that you add to Afternic in the future if those domains carry a Buy Now price between $495 and $100,000.

Activate the Dan.com Lander option (if you want LTO to show on Lander)

Switch your landing pages to the "Dan.com Lander" option to display the Lease to Own price to your visitors. Use the "Bulk Lander Update" button to update landing pages in bulk, or use the "Sale Lander" column to adjust domains individually.

Select your default sale lander (if you want LTO to show on Lander)

On the account settings page, you can also select your preferred default sale lander for new domain names. The Dan.com lander option will display your Lease to Own price alongside your Buy Now price.