Sellers will Get Paid Earlier with Expedited Payout at Afternic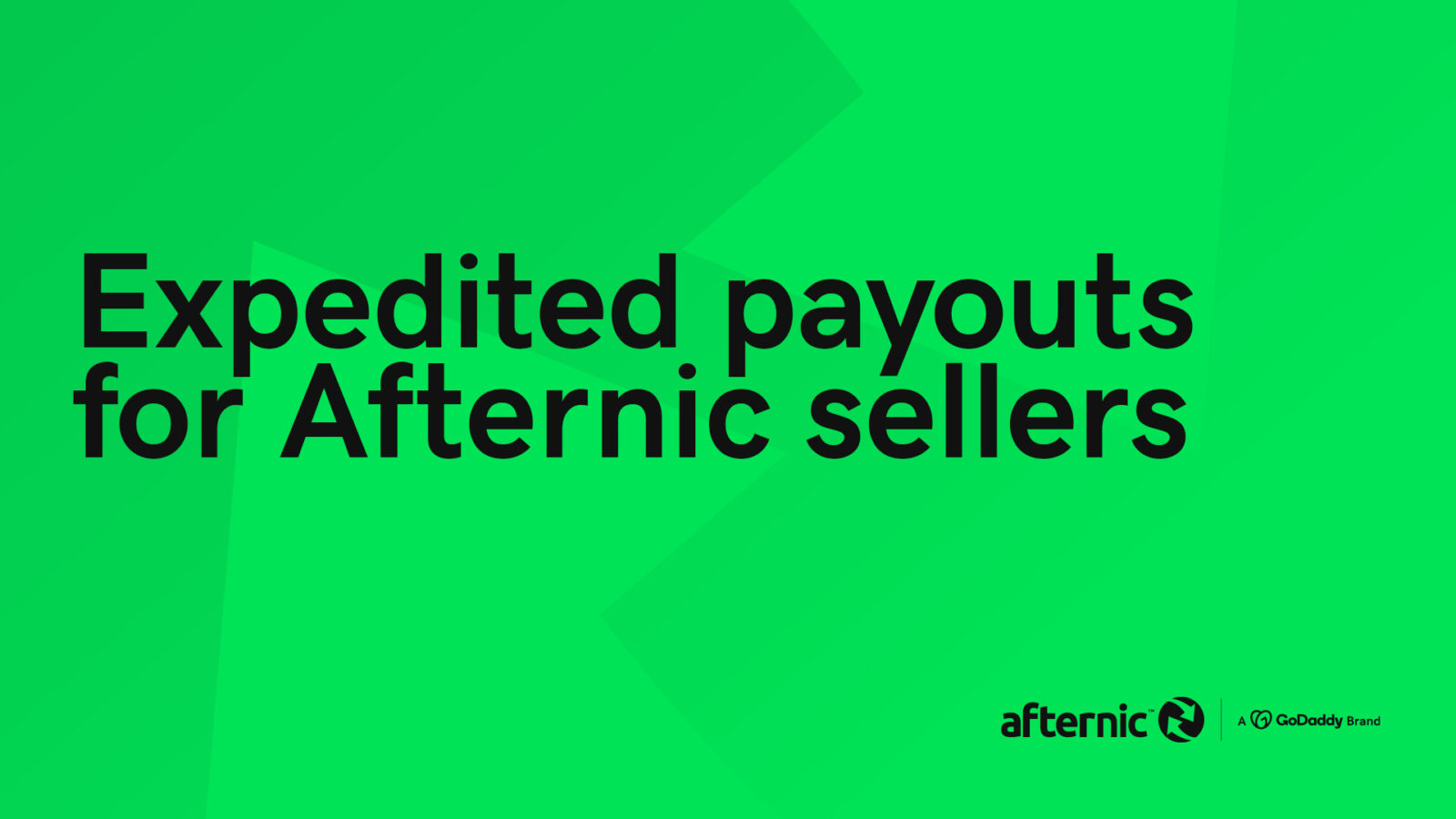 Over the last year, Afternic has rolled out several impactful updates to domain name sellers, such as ownership verification, the introduction of the Lead Center, and Lease to Own. In an effort to continue supporting investor success, Afternic's latest enhancement will provide expedited payouts to domain sellers in more transactions.
The acquisition of Dan.com in 2022 by GoDaddy brought Afternic many new shared capabilities and insights. The payout process is one area that Dan.com has excelled in, that has provided key insights for the Afternic team. As a result, we're rewriting the payout process for Afternic to expedite payouts.
We believe this is hugely beneficial for domain name sellers, who can now expect to be paid out earlier than before.
How did Afternic achieve this?
Afternic has changed its payout process in an effort to pay domain name sellers earlier. In the past, domain name sellers were paid after the domain name had been transferred to the buyer.
Thanks to feedback from domain sellers, Afternic will pay sellers following the domain's successful transfer to Afternic's transaction assurance department. Then, Afternic will deliver the domain name to the buyer.
Here is a simplified version of what a typical transaction at Afternic will look like now:
Buyer submits their payment for the domain name
Afternic retrieves the payment and approves the funds
Seller transfers the domain to Afternic following communication from the Transaction Assurance department
Funds are disbursed to the domain's seller
Afternic transfers the domain name to the buyer
Adjusting our payout process means that we can expedite payout times for domain name sellers. While each transaction is unique, we hope to see the average payout time to sellers reduce by up to 50%.
Which sales will this cover?
Afternic's expedited payout process change sends funds to the seller before the domain name is sent to the buyer. Therefore, to start, it covers all domain name sales except those through the reseller network. Those sales will continue to follow the current payout schedule due to engineering and administrative complexities, including network fraud checks, involved in expediting payments across a network of more than 100 partners.
With that in mind, which domain sales will expedite payout cover? Here's a helpful chart:
| | | | |
| --- | --- | --- | --- |
| Sale Type | Venue | A GoDaddy Platform? | Outcome |
| A sale from Afternic.com | Afternic | Yes | Expedited payout |
| A sale through Afternic landing pages | Afternic | Yes | Expedited payout |
| A sale through Afternic's lead center | Afternic | Yes | Expedited payout |
| An Afternic-listed domain sale through GoDaddy | GoDaddy | Yes | Expedited payout |
| A Fast transfer sale through the Premium Network | Premium Network | No | No change |
| A sale through the Standard Network | Standard Network | No | No change |
This is the latest step for Afternic in working to reduce payout times for sellers. Being paid before a domain name is transferred to the buyer is a significant step forward, which comes as a direct result of feedback from Afternic domain sellers.
With domain name sellers able to access their funds much earlier in the domain sales process, it sets up the opportunity for a faster reinvestment cycle.
Faster Reinvestment Cycle
A faster average payout from Afternic is beneficial in its own right, but for domain name sellers looking to build a portfolio, this announcement has another dimension to it.
Streamlining payout times allows sellers to access the funds earlier in most cases. When you are scaling a domain name portfolio, the ability to reinvest funds from a domain name sale more quickly helps to provide consistency for domain name acquisitions.
What should you do now?
One of the most important things that you can do as a domain name seller is to ensure that your payout settings are up to date so that when you get your next domain sale, Afternic can disburse your payment without delay.
To check your payout settings, head to your Account Settings page to check and update your details. No other action is required by sellers to take advantage of expedited payouts.
Expedited payouts is something that Afternic sellers have asked for, and thanks to their feedback, combined with the influence of Dan.com's team, we're excited to implement it so that sellers can begin to benefit.