Afternic is Launching Lease to Own – 4 Things Sellers Can Do Today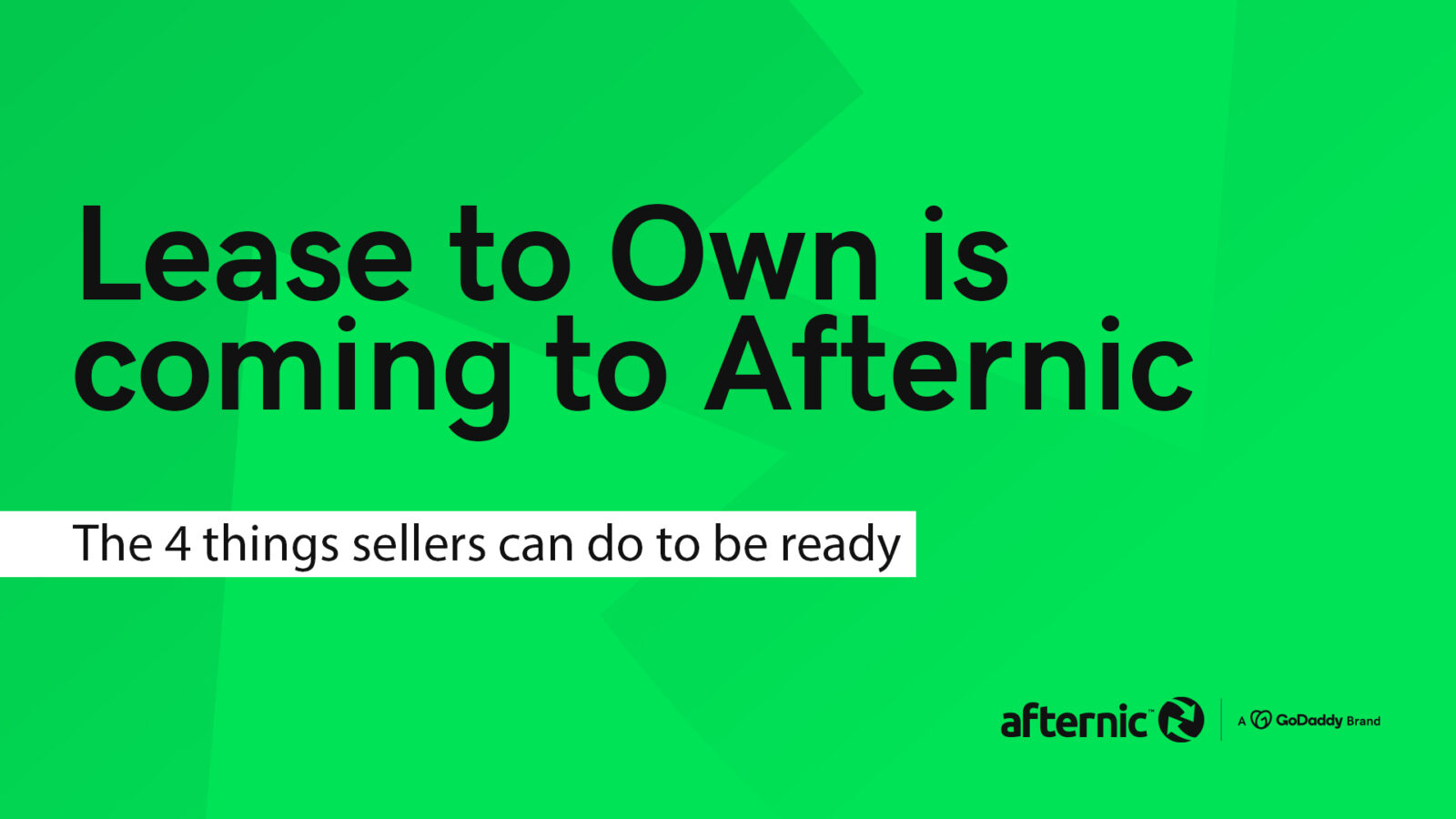 Shortly, Afternic will roll out Lease to Own, providing buyers the option to pay for a domain over time. This additional payment option expands the number of potential buyers for your domain and, once enabled, will be displayed on your domain's landing page and through the GoDaddy search path.
Lease to own, payment plans, or installments are often used interchangeably to describe domain name purchases that are paid over a pre-determined number of months or payments.
Domain sellers have early access to enable Lease to Own on your Afternic portfolio ahead of the rollout. Below we share four things to best leverage Lease to Own, and to be ready for its launch.
What are the Benefits of Lease to Own?
For sellers, this has a few important benefits. The lower advertised monthly payment may drive an increase in sell-through rate for investor portfolios, as the lower initial investment makes the domain more attractive for more price-sensitive buyers.
Secondly, recurring income. Receiving consistent income from a domain name portfolio is the goal for many domain name sellers. However, the timing of outright sales is difficult to predict.
Lease to Own provides the ability for domain sellers to produce recurring revenue from their domain names over an extended period. Along with recurring revenue, sellers may be able to produce a higher average sales price thanks to the combination of increasing the Buy Now price and providing low, accessible monthly payment options for motivated buyers.
Lease to Own on GoDaddy
GoDaddy, the largest domain name registrar in the world, attracts a significant amount of customers looking to buy a domain name every day. Soon, those buyers will be presented with the option of purchasing aftermarket domain names via Lease to Own, if the seller opts in with eligible domain names.
This GoDaddy integration means that Afternic sellers could gain additional impact thanks to the availability of Lease to Own domain names through GoDaddy's registrar path.
If your domain names have Lease to Own enabled alongside a Buy Now price between $495 and $100,000 at Afternic, buyers can opt to purchase your domain name over time if they search for your domain through GoDaddy.
With millions of domain name searches happening every month at GoDaddy, this additional purchase option is expected to benefit domain name sellers greatly.
Soon, we will share a preview of what the Lease to Own purchase path will look like for buyers searching on GoDaddy.
Lease to Own on Landing Pages
While GoDaddy will provide exposure for your Lease to Own domain names, displaying a Lease to Own price on your landing page provides visitors with an easy way to purchase your domain through Lease to Own.
The recently launched "Dan.com Lander" option at Afternic provides both Buy Now and Lease to Own capabilities once Afternic rolls out Lease to Own.
Your domain's landing page is like a for sale sign in front of a house. It easily signals that your domain name is for sale. A high Buy Now price could deter some potential buyers, so including your Lease to Own terms on your landing page can provide an alternative option that may make buying your domain more accessible to buyers. Afternic's lease to own capabilities will follow the Dan.com checkout path, using its technology and expertise to serve Afternic's customers.
What Should You Do Today to Be Ready?
With over 22 million domain names on the platform, rolling out Lease to Own requires significant infrastructure, engineering, and scaling. This is why Lease to Own will roll out to sellers first. This early access period gives you the opportunity to make sure that your portfolio is ready to take advantage of Lease to Own from day one.
Here are 4 suggested things to do today to be ready:
1. Check and update Buy Now prices
Lease to Own will work based on your current Buy Now prices between $495 and $100,000, so ensure that you have accurate Buy Now prices listed for your domain names within your Afternic portfolio.
2. Switch on "Lease to Own" for your existing domains
On your Afternic portfolio page, you'll notice a new "Lease to Own" column. Enable Lease to Own for individual domains by clicking the "Off" link and following the instructions. Bulk updates can be done by selecting multiple domain names and clicking on the "Pricing" toolbar in the footer. You'll be able to enable Lease to Own from this screen, below. Up to 500 domain names can be enabled at a time.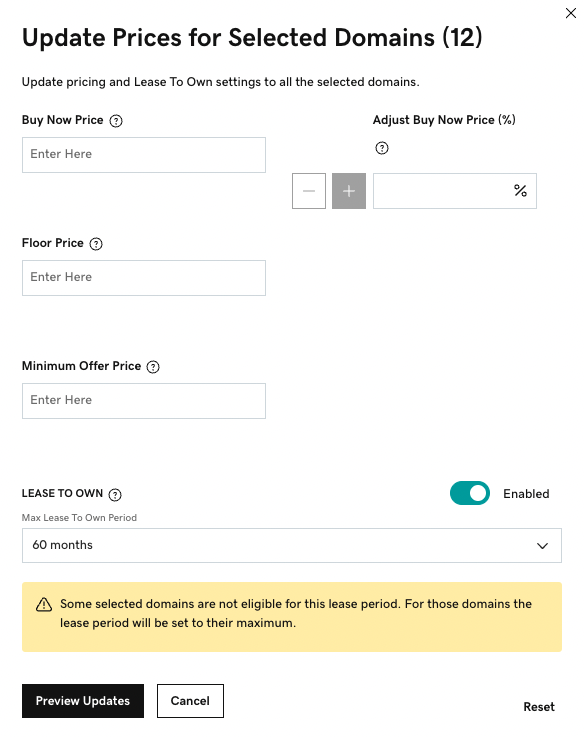 3. Enable Lease to Own for future domains
There's a new tab on your Afternic account settings area. From here, you can enable Lease to Own by default for all domain names that you add to Afternic in the future, if those domains carry a Buy Now price between $495 and $100,000.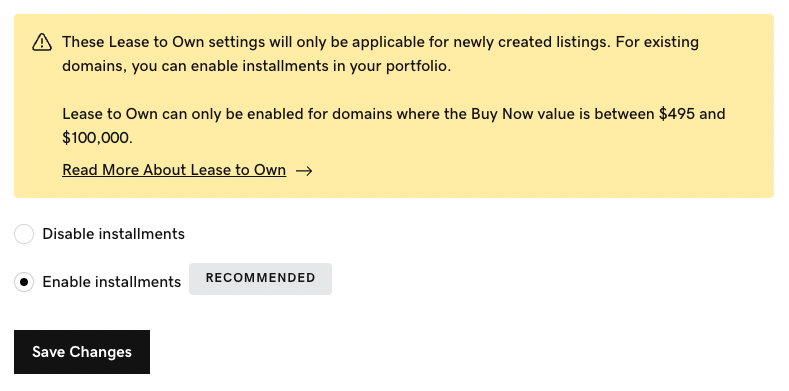 4. Select your default sale lander
On the same page, you can also select your preferred default sale lander for new domain names. The Dan.com lander option will display your Lease to Own price, alongside your Buy Now price, when Afternic rolls out the feature.

If you have a portfolio of 10,000 domains or more, please email partnersales@afternic.com and the team will be able to work with you to enable Lease to Own on your domain names.
S

ervice Fee

and Discounts
Buyers
Afternic's Lease to Own provides buyers with the ability to pay for domain names long-term, but as with similar payment plan models, buyers will pay an escalating purchasing price for longer Lease to Own deals, also known as a service fee.
For sales between 2-12 months, no service fee is added. Between 13 and 24 months, there's a 10% service fee, while 25-36 months is a 20% service fee. For longer term deals between 37 and 60 months, buyers will be charged a 30% service fee.
| | |
| --- | --- |
| Transaction Length | Buyer Service Fee |
| 2-12 months | 0% |
| 13-24 months | 10% |
| 25-36 months | 20% |
| 37-60 months | 30% |
This service fee will cover payment processing fees, renewal fees, buyer DNS support, and more over the term of the deal.
Sellers
Standard Afternic commission rates apply to Lease to Own and sellers will benefit from commission discounts for longer term deals. A seller will get a 5% commission discount for deals between 13 and 24 months, a 10% discount for deals between 25 and 36 months, and a 15% discount for deals between 37 and 60 months.
For example, a seller that lists their domain name for sale using one of Afternic's approved nameservers eligible for a 15% commission rate, sells a domain name via Lease to Own for $30,000 with the buyer selecting a 37-month term. In this instance, the seller would receive a 15% commission discount, which would result in a 0% commission rate.
| | |
| --- | --- |
| Transaction Length | Seller Commission Discount |
| 2-12 months | 0% |
| 13-24 months | 5% |
| 25-36 months | 10% |
| 37-60 months | 15% |
With Afternic and Dan.com, two GoDaddy brands, both offering Lease to Own, the platforms aligned the service fee and commission discount to simplify these for domain investors. Dan.com announced that it will be moving to the same service fee and commission discount structure. So no matter whether you sell a domain Lease to Own on Afternic or Dan.com, you can be sure of your commission discount.
The technology and capabilities of Dan.com, a GoDaddy brand, have been vital to the launch and implementation of Lease to Own. Afternic and domain name sellers can now benefit from the company's expertise with Lease to Own as it is enabled for a wider audience.
What's next? Afternic will roll out Lease to Own to buyers shortly. The team will also begin a gradual roll out of Lease to Own domains into GoDaddy's search path.
Visit your Afternic portfolio to begin enabling Lease to Own today ahead of its roll out.