Lander selection: redefining your use of Afternic landing pages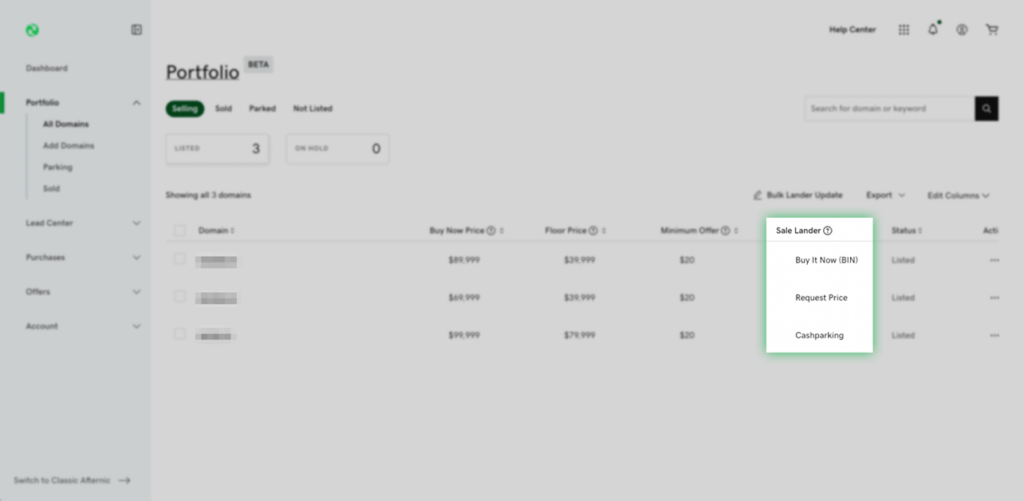 Afternic provides a number of landing page options for customers including Cashparking, Request Price, and Buy it Now.
In the past, in order to access those landing pages, you would need to switch nameservers to move between them. For example, Request Price would be ns3.afternic.com and ns4.afternic.com, with Buy it Now taking ns5.afternic.com and ns6.afternic.com.
In order to continue to add to the selection of landing pages that we offer, Afternic has made a substantial change to the way that you use access our landing pages.
From now on, customers already using Afternic nameservers will now use Afternic's portfolio dashboard to update their landing page settings either individually or in bulk. You will not need to change Afternic nameservers to change landing pages.
For customers adding domain names to Afternic, here is our recommended flow going forward:
Set your domain name to ns1.afternic.com and ns2.afternic.com
Add your domain name to your Afternic portfolio
By default, your domain name will show the Request Price landing page
If you want to change the landing page that is shown, this will be done through your Afternic portfolio page
Any changes to your Afternic landing page selection will, in the future, be actioned from your Afternic portfolio page
For a full walkthrough of Lander Selection, visit the GoDaddy Garage.
FAQs
We realize that you may have some questions about this update. Here are some of the most common questions.

Do I need to change Afternic nameservers to change my landing page
As long as you're pointing to Afternic nameservers (for example, ns1.afternic.com and ns2.afternic.com), you will change your lander type via Afternic's portfolio page from now on.
Will Afternic remember my current landing page settings?
Afternic's team has backfilled landing page preferences. Your current Afternic landing page preferences are shown under the new "Sales Lander" column on your portfolio page. From now on, you will change your lander type via Afternic's portfolio page.
If I'm already using Afternic nameserver settings, do I need to update my nameservers to access the new lander selection?
If your domain is currently using an existing Afternic nameserver, you do not need to make any changes to your nameserver settings. The lander settings will now be determined by the lander selection in the UI rather than the nameservers.
If your domain is not using the Afternic nameserver, you will need to update your domain to use one of our nameserver configurations and then select the lander type in the UI.
How long will it take for my lander page to update to the new lander settings?
If your lander is currently using an Afternic nameserver, the lander changes should take effect almost immediately.
If you have just updated the nameservers to Afternic, please allow 24-48 hours to see the lander changes take effect.
If I add domain names to Afternic, and I use an Afternic nameserver configuration, which landing page will it default to?
Lander selection will default your domain to our Request Price landing page. If you want to change that, you should visit your Afternic portfolio page and change the Sales Lander settings.
Afternic launches the lead center beta
Afternic, GoDaddy's aftermarket platform, remains one of the most popular and consistent venues for domain sales, partly thanks to the constant activity…