What's new at Afternic? January – May 2023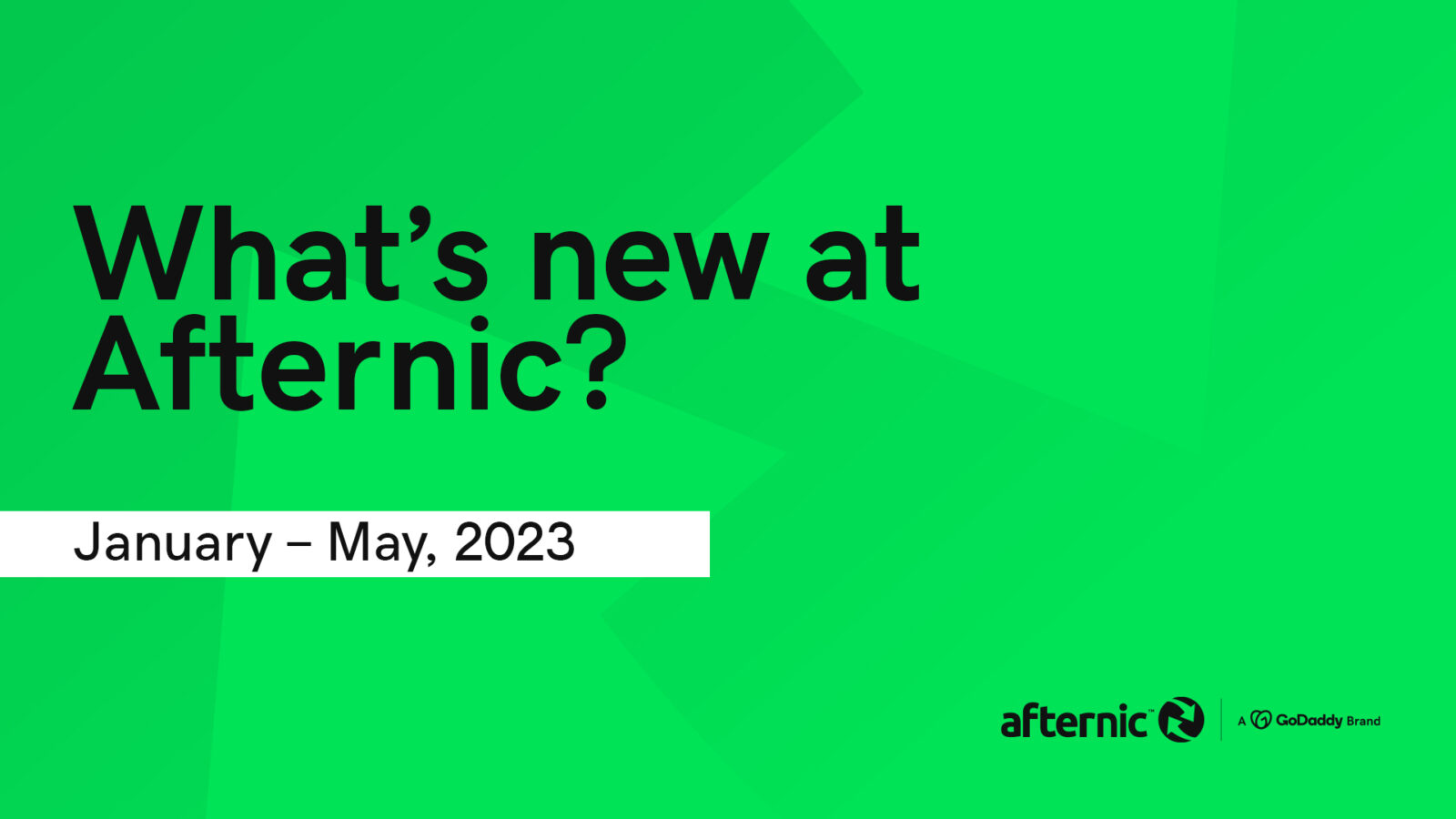 The first few months of 2023 have seen new designs and features brought to Afternic. From the all-new Lead Center to a revamped "Add Domains" interface, there are additions aplenty at the GoDaddy-owned aftermarket platform.

Lead Center
Earlier this year, the lead center landed on Afternic, providing customers with an insight into brokered deals on the platform.
Up until then, there was no formal way for domain sellers to view inbound inquiries that Afternic's brokers were working on.
The lead center provides more transparency and insights into Afternic's brokerage service. I personally have appreciated the additional data that the lead center provides, giving me an understanding of which domain names are receiving the most inquiries and offers.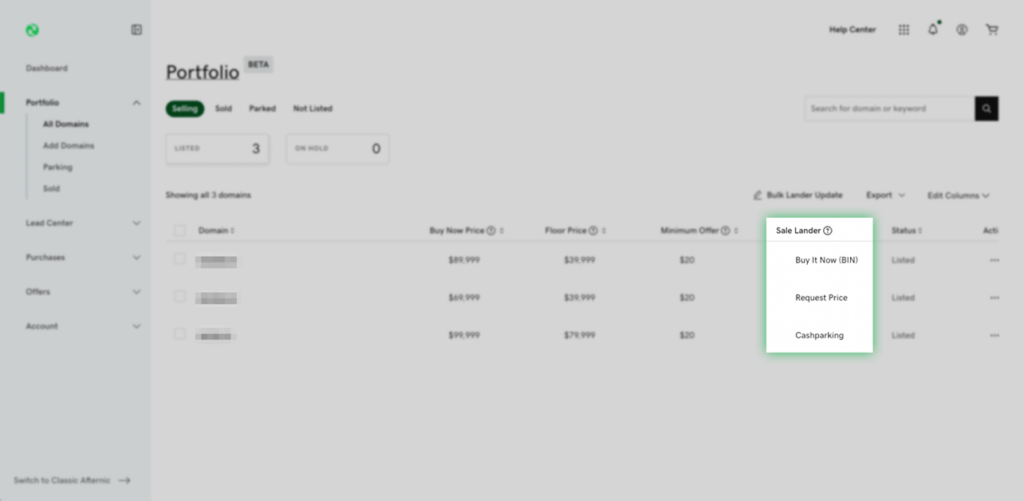 Lander Selection
In April, the way that sellers choose between landing pages at Afternic changed.
In the past, there was a reliance on switching nameservers to access different landing pages. For example, moving from a Request Price page to a Buy it Now landing page involved changing from ns3.afternic.com and ns4.afternic.com to ns5.afternic.com and ns6.afternic.com.
These changes could be cumbersome, especially if you maintained portfolios at multiple registrars.
Going forward, Afternic has transitioned to a lander selection system. In essence, as long as your domain name is pointed to Afternic nameservers, you'll be able to log in to your Afternic account to change landing pages either individually or in bulk using on-screen "Sales Lander" prompts. A walkthrough can be found on the GoDaddy Garage.
There are two major benefits of this new system. Firstly, sellers can now instantly change between landing pages, and secondly, it opens the door to Afternic providing new landing page options.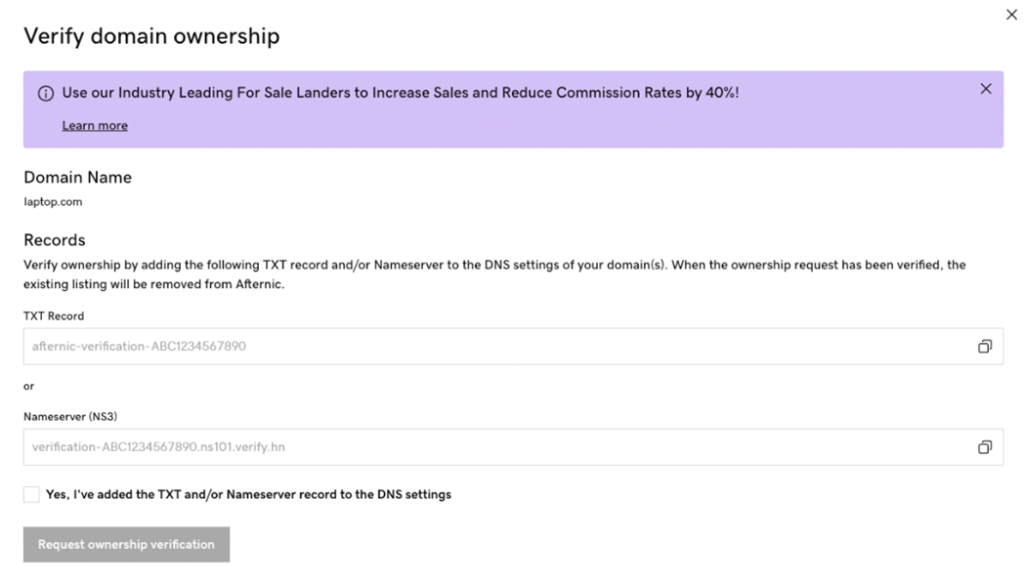 Ownership Verification
One of the most highly requested features that customers wanted Afternic to launch is automated ownership verification.
Utilizing nameserver and TXT methods, automated ownership verification replaces Afternic's previous customer services-led verification, providing a faster independent way to remove outdated listings.
It's a significant step forward for Afternic, and something that I'm personally excited to see on the platform.

A New Add Domains Interface
Alongside automated ownership verification came a new "Add Domains" interface. Previously, sellers had to use Afternic 1.0's interface to add domain names to their portfolios. This was, admittedly, outdated.
The new "Add Domains" interface within Afternic 2.0 provides a better and faster-integrated experience for sellers.

Updated FAQs Interface
Another area of the site that got a makeover is the valuable FAQs page. This now offers a compact, simple means of finding information about Afternic.
Afternic's Blog
While this is not central to the platform, Afternic launched this blog in May 2023! Thanks to a partnership between  Alan Shiflett, Senior Director of Sales, and the GoDaddy Do It For You team, we were able to build this blog as a means of providing updates, insights, and contributions to the domain name industry.
What's Next?
There will be more features added to Afternic in 2023. While the company is unable to provide specific timeframes, these features will include a couple of widely anticipated new additions to Afternic.
Lease to own will be coming to Afternic, offering a way to sell your domain names in installments over a period of time.
We'll also be launching a custom landing page option and a faster payout system.
Of course, details of these updates will be published on the Afternic blog.