Dan.com Landers Now Available on Afternic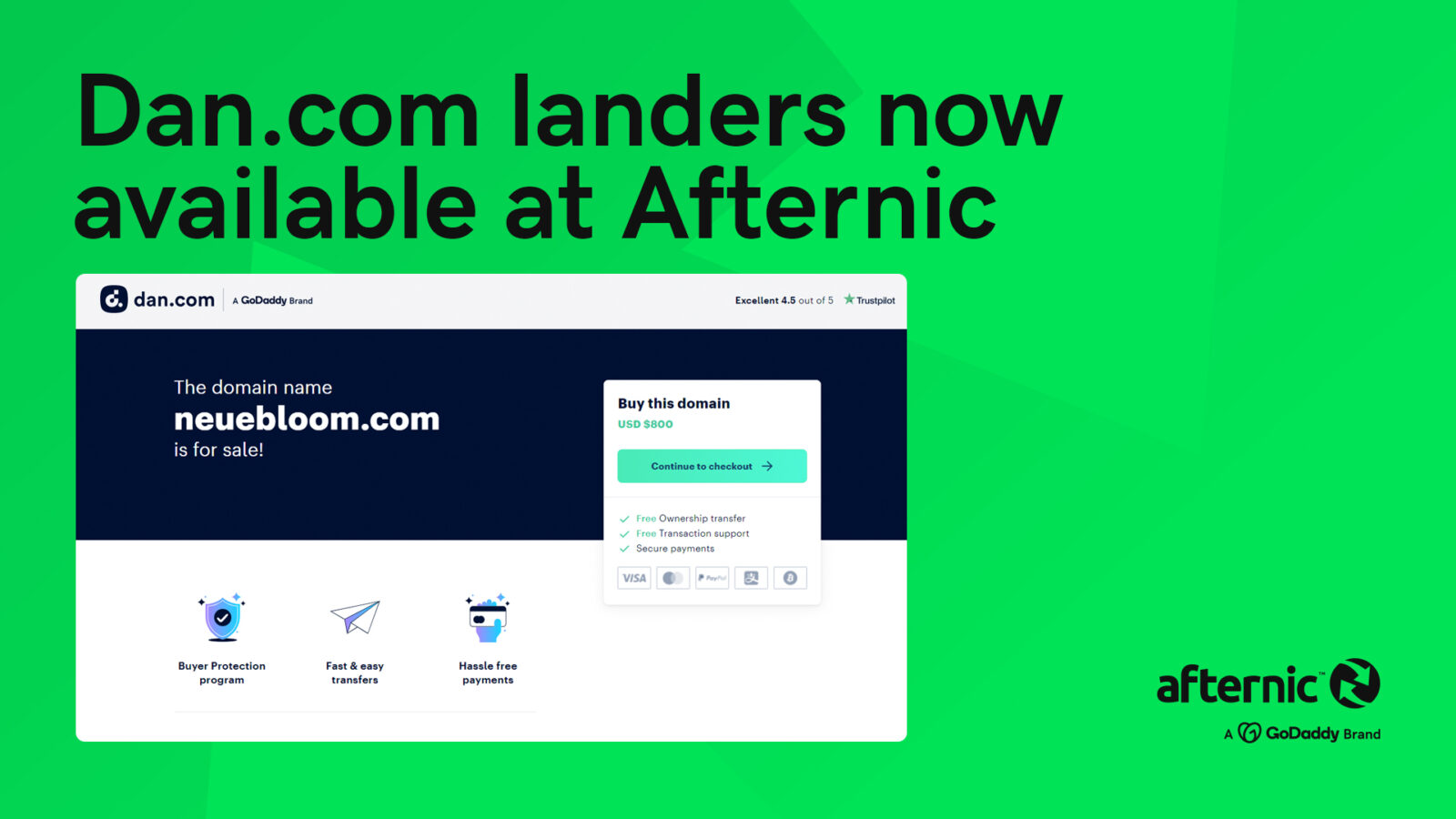 Afternic has unveiled a new landing page that may be familiar to customers of the GoDaddy-owned marketplace, Dan.com.  
Sellers on Afternic will now have access to these high-performing landers from Dan.com, which offer a quick Buy It Now checkout experience with additional payment options for buyers.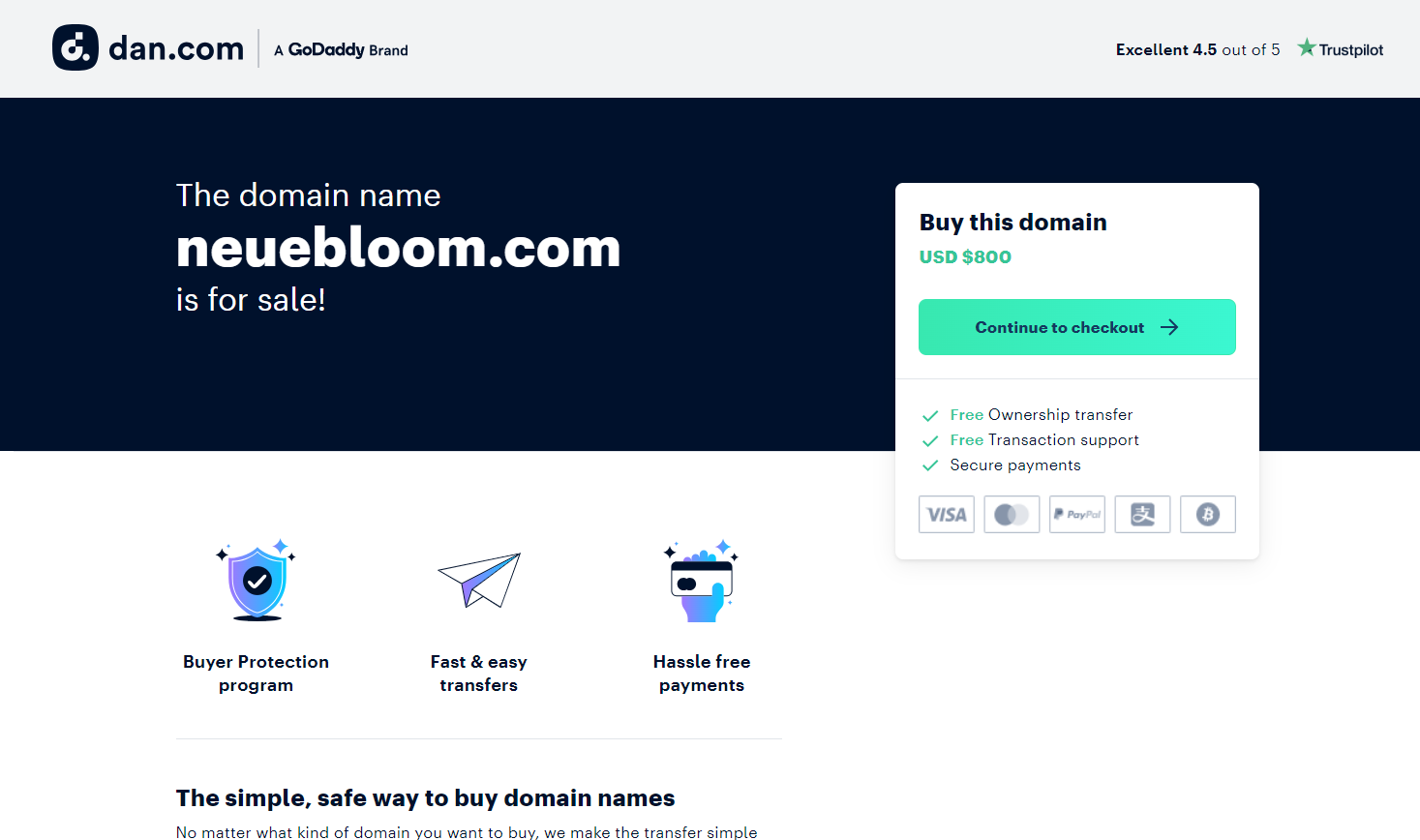 A High Performing Landing Page
The Dan.com landing page has been a popular option for Dan.com customers for several years, providing a high-performing, simple, clear, for-sale page.  
Since acquiring Dan.com in 2022, Afternic's team has been impressed by the design and performance of the Dan.com landing page. Now, with the two marketplaces aligned under the GoDaddy brand, Afternic is making this page available as an additional landing page option for its sellers. 
The Power and Reach of the GoDaddy Brand
Over the course of its lifetime, GoDaddy has invested significant funds into brand recognition. From Super Bowl ads to regular TV commercial campaigns, it's safe to say that GoDaddy is the most recognizable name in domains.  
 That wide-reaching recognition means that there's a degree of inherent trust when a potential buyer sees a GoDaddy-branded landing page listing a domain name for sale.  
Tying GoDaddy's brand together with the Dan.com-designed landing page is, for some, a match made in heaven. 
Additional Payment Options
Domain names using the Dan.com landing pages at Afternic will redirect to the Dan.com website, which offers a range of buyer payment options, including Alipay. Buyers will follow the Dan.com purchase path, too. 
Coming Soon: More Features and Custom Colors
Upon launching, this landing page option will be available with a standard background: navy blue.  
This was chosen thanks to the higher sell-through rate that has been achieved historically by sellers using this color. 
However, in the future, Afternic's team will be implementing options to customize the colors of the Dan.com landing page to allow sellers to adjust the landing page settings based on their own preferences. 
The landing page is currently available for Buy It Now listings only. In the future, Afternic will add additional features that will allow sellers to use more than just the current Buy It Now functionality. 
How to Use This Landing Page
To begin using this landing page option, there are two prerequisites.  
 

Your domain names should point to ns1.afternic.com and ns2.afternic.com.

 

Y

our domain names should contain a Buy It Now (BIN) price at Afternic. To check this, visit your

portfolio page

.

 
To switch your domain names to the Dan.com landing page, navigate to your Afternic portfolio page.  
 From there, you can either update domains in bulk or individually: 
1. Bulk Changes
Use the "Bulk Lander Update" button to change up to 1,000 domains at a time to the Dan.com landing page by selecting the "Dan.com Lander" option from the pop-up.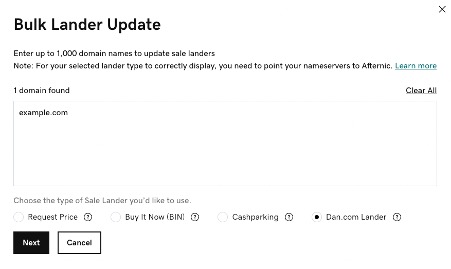 2. Individual Updates

 
Use the "Sale Lander" column to adjust the landing page for individual domain names. Click on the sales lander setting for a domain name from your portfolio to bring up a set of four options. Select "Dan.com Lander."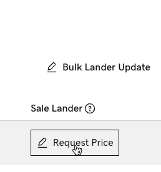 Why Consider Buy It Now Landers?
In general, the presence of a BIN price on a domain name can invoke spur-of-the-moment purchases and immediately signal the seller's expected sales price without the hassle of back-and-forth negotiations.    
Have you tried out this landing page? Let us know by DM'ing @Afternic on Twitter!